About Us
Director's Profile
Organizational Structure
Services
Contact
In the 1346th meeting of the Board of Regents (BOR) held last 31 July 2019, the BOR approved the upgrading of the UP Diliman Task Force on Solid Waste Management (TFSWM) into the Diliman Environmental Management Office (DEMO).  This should allow for a larger scope of responsibilities which include dealing with hazardous waste, monitoring of water air quality, developing biodiversity conservation and projection, and managing the green space of UP Diliman.
DEMO's Tasks:
Formulation of a comprehensive UP Diliman Solid Waste Management Plan;
Formulation of specific guidelines for solid waste volume reduction for residential units, dormitories, commercial establishments, academic and administrative buildings within the UP Diliman campus;
Operation and maintenance of the University's Materials Recovery Facility;
Monitoring of air and water quality within the UP Diliman campus;
Conduct of informational and education programs about ecological solid waste management, biodiversity conservation and protection;
Extension of assistance to nearby LGUs in their solid waste management programs; and
Formulation of policies on environmental protection and waste management and endorsement of these policies to the concerned University and local government officials.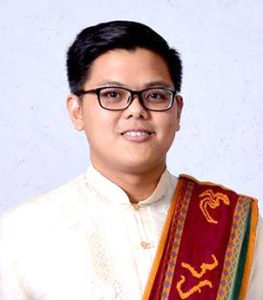 L.Arch. James Christopher P. Buño
L.Arch. James Christopher P. Buño is the new Head of the newly formed Diliman Environmental Management Office or DEMO. He succeeded Engr. Kristian July R. Yap.
Prior to his appointment, L.Arch. Buño was the Acting Director of the Campus Maintenance Office (CMO) from March 2017 until 30 June 2020. He has also served the University as a Landscaping Supervisor of CMO, where he used to oversee the grounds maintenance activities, such as street sweeping, grass-cutting and pruning. Before U.P., L.Arch. Buño worked in landscape design and construction management from 2011 to 2016.
A licensed landscape architect, L.Arch. Buño is currently a student of the Master of Arts in Urban and Regional Planning (MA URP) program here at UP Diliman, where he also obtained his Bachelor in Landscape Architecture degree.
L.Arch. Buño is the current Board Secretary of the Philippine Association of Landscape Architects (PALA) and was a former Project Director of the Luntiang Pook: A Landscape Design Workshop Using Indigenous and Edible Plants for Filipino Communities, PALA's community engagement initiative. He loves to eat and, in his free time, enjoys meeting friends over good food or coffee.
See or send us a letter at:
Diliman Enviromental Management Office
Stud Farm, C.P. Garcia Avenue,
Diliman, Quezon City 1101
Telephone (Mobile):
(0915) 5548306 [for Globe/TM] (0961) 5960754 [for Smart/TNT/Sun]